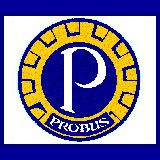 Home Page
The Tulip
Management Committee
What is Probus?
Past Speakers
Joining
Constitution
Job Descriptions
20 Years
Local Clubs
Spring Fling
Links

club no. 101 chartered with probus canada
Probus Club of Ottawa Alta Vista
sponsored by the rotary club of ottawa

Face-to-face meetings are "on hold", so we continue to meet by Zoom.
It's quite painless, so if you have not tried it yet, check the details in the monthly e-mail.
(Masks not required. Non-vaxers welcome.)

Take a look at "The Tulip" page!


January 26th, Noah Morritt
Supernatural Newfoundland Folklore and Local Legends

Noah Morritt is the Museum Manager and Curator of the Torbay History House & Museum in Torbay, Newfoundland & Labrador. He holds undergraduate degrees in anthropology and history, as well as a Masters and PhD in folklore from Memorial University. He specializes in the folklore and oral traditions of Atlantic Canada with a specific focus on local legends and the supernatural.

One of his students wrote a testimonial:
Professor Morritt is fantastic. Very kind and wants students to understand and enjoy the course. Willing to help, flexible office hours, will explain any information you dont understand. Highly recommend taking one of his courses!

Sounds like we are in for a treat!


February 23rd, Ralph Benmergui
From Age-ing to Sage-ing

Ralph Benmergui is best known as an award winning broadcaster. Starting as an actor and stand-up comedian he shifted into journalism and became a program host in his long career at the CBC. Today he is a podcaster, ordained spiritual counselor and now, author, with the release of his spiritual memoir I Thought He Was Dead.

Born in Morocco, raised in Toronto Ralph now is the father of four and now makes Hamilton his home.

Ralph will talk about the path from Age-ing to Sage-ing. How we can renew our sense of purpose and cultivate our wisdom in a society that doesn't appreciate that we can be old and improved.




Stay Safe!




---




Johnson Insurance

We have added a link to the Johnson Insurance web site (see "Links" page).
Johnson provides competitive rates for Probus members for all kinds of insurance, particularly travel insurance.
---
Guests and Visitors from other Clubs are welcome.

We are a 'Combined' Club. We meet on the 4th Wednesday of the month (except December - 2nd Wednesday). Meetings begin at 10:00 with a few minutes of announcements and then a speaker. Members start to arrive about 9:30 for coffee, cookies and chat (tea, Tim-bits and talk).




Meetings were/will be at:

Gloucester Presbyterian Church
91 Pike Street
Ottawa K1T 3J6


Pike Street runs north from Hunt Club just west of Conroy. The church is at the corner of Lorry Greenberg and Pike. Parking lot entrances are off Pike.

PROBUS' Vital Purpose

... to stimulate thought, interest and participation in activities at a time in life when it is easy to become complacent and self-centred.






Copyright Probus Alta Vista (2011 to 2021)
Site development by SoftWright Inc.