June 14th

June issue of The Tulip posted

Social Page updates:
Picnic moved forward to July
Visit to Beechwood Cemetery announcement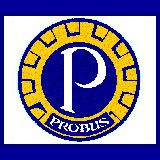 Home Page
The Tulip
The Social
Management Committee
What is Probus?
Past Speakers
Joining
Constitution
Job Descriptions
20 Years
Local Clubs
Spring Fling
Links

club no. 101 chartered with probus canada
Probus Club of Ottawa Alta Vista
sponsored by the rotary club of ottawa

Check out "The Social" page for other activities - walks, visits, etc.
and on-line registration for the "Beechwood" outing.


July 27th, In-house Speakers and Picnic


The three "In-house" speakers are:

Lynda Joyce Life Change through Storytelling
A member of Ottawa Storytellers and Toastmasters, Linda will tell us how her life has changed through storytelling and speaking.

Colin Galligan 50+ years of Wine Appreciation
Interesting factoids, exposure of myths, and ample personal opinion (no samples).

John Wright Shakespeare Re-imagined
The Bard on Broadway, on screen, at the opera, ballet and in concert.



Followed by an indoor picnic


August 24th, Joe Tavenier "Coffee"

Joe Tavenier has been with Bridgehead for over 12 years. The first 4 were as a Coffee House manager.

More recently, he has overseen the development and maintenance of training and quality control programs serving their 19 locations.

From bush to bouche

---




Stay Safe!




---




Johnson Insurance

We have added a link to the Johnson Insurance web site (see "Links" page).
Johnson provides competitive rates for Probus members for all kinds of insurance, particularly travel insurance.
---
Guests and Visitors from other Clubs are welcome.

We are a 'Combined' Club. We meet on the 4th Wednesday of the month (except December - 2nd Wednesday). Meetings begin at 10:00 with a few minutes of announcements and then a speaker. Members start to arrive about 9:30 for coffee, cookies and chat (tea, Tim-bits and talk).




Meetings are at:

Gloucester Presbyterian Church
91 Pike Street
Ottawa K1T 3J6


Pike Street runs north from Hunt Club just west of Conroy. The church is at the corner of Lorry Greenberg and Pike. Parking lot entrances are off Pike.

PROBUS' Vital Purpose

... to stimulate thought, interest and participation in activities at a time in life when it is easy to become complacent and self-centred.






Copyright Probus Alta Vista (2011 to 2022)
Site development by SoftWright Inc.